Starbase Update | Booster 4 & 5 Updates, Propellant Plant | 12/13/21
This week at Starbase saw an exciting new step taken towards Booster 4 testing and the eventual launch of Flight 420, Booster 5 was moved to a new spot at the production site, and finally, the Propellant plant takes delivery of new tanks ahead of further expansion. With the first flight of the Starship system no earlier than January 2022, progress at Starbase is slowly increasing to meet their goals.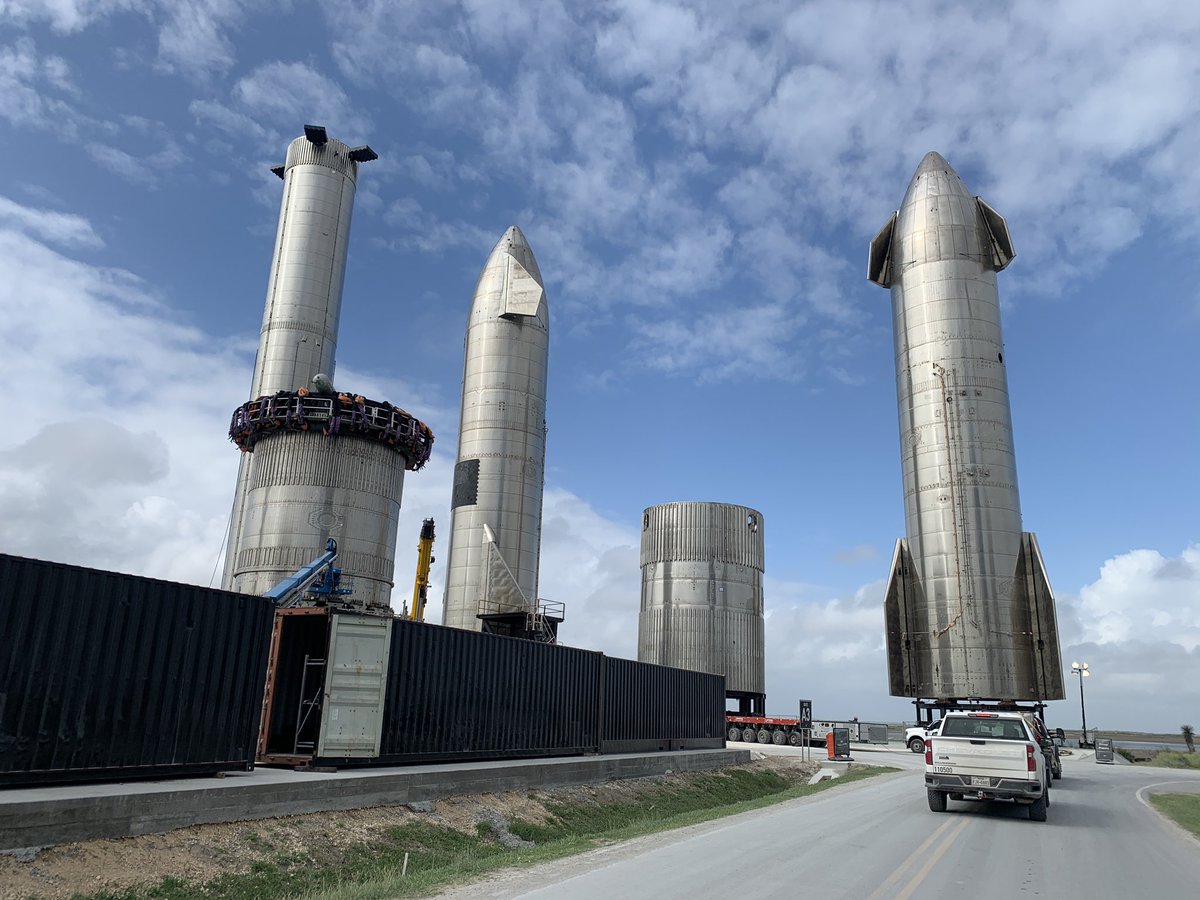 Starships and Booster aligned. Source: RGVAerialPhotography
Booster 4 Prep
This week saw the SpaceX crane hook up to the Booster lift bar, a device that evenly spreads the weight of the booster through the structure, in preparation for a lift. Initially, it wasn't clear whether they would be lifting the booster out of its transport stand for a task, but the arrival of modular transporters made it clear they were instead lifting the stand. The modular transporters are what SpaceX uses to move anything large and heavy, including the vehicles themselves, indicating that Booster 4 is preparing to move. Shortly after the modular transporters were in position, Booster 4 was placed down again before the crane detached.
It's now expected that B4 will move to the orbital launch mount for extended testing including pressure tests, cryogenic pressure tests, and of course, static fires. This period of testing marks the first time that SpaceX will test a production Booster vehicle, so expect delays and a cautious approach, especially with that many Raptor Engines attached. Another important thing to note is that not all of Booster 4's aero covers are installed yet, which has to be completed before flight, so there is still some work to do.
Speaking of the Orbital Launch Mount, this week saw the booster adapter have its protective shroud installed and tested. The shroud covers the adapters and protects them against exhaust during launch operations, allowing for reduced maintenance costs and the time it takes to prepare the pad for use again. NASA also used similar devices during the launch of Saturn V as seen here.
Booster 5 moved! 
This week also saw the move of Booster 5 to a temporary storage position near Ship 15 and 16, as it makes way for the next vehicles in the High Bay. While the Booster still has some work to be done, SpaceX has extremely limited High Bay space right now, which is needed for Ship assembly, Booster assembly, and other construction projects. Moving Booster 5 to a storage location was the logical decision to prevent blocking the production line of other vehicles.
Following Booster 5 vacating the High Bay, Booster 6 moved in for further work. Booster 6 has been designated a test tank, but what SpaceX is testing with the tank is yet to be determined. Once B6 is complete, it is expected that Ship 21 will move into the High Bay for final assembly between the body and nose cone sections. Once complete, Ship 21 may be able to move to one of the suborbital pads for testing, although do not be surprised if it is also put into extended storage.
Booster production is currently ahead of engine production

— Elon Musk (@elonmusk) December 8, 2021
Elon Musk tweeted this week that the 'Booster production is currently ahead of Raptor production,' referencing the Raptor engine production crisis currently ongoing at the company. How long this will take to resolve is anyone's guess, but ultimately this issue has to be resolved ahead of mass production starting at the McGregor factory site in 2022. SpaceX needs a high volume of reliable, efficient Raptor engines to supply the test program, especially during the early launches where recovery is not an option. 
Propellant Plant Work Continues
Another key component of Starbase is the Sanchez site and the propellant plant currently being constructed there. This plant will produce both oxidizer and fuel for use in test and flight operations, reducing the reliance on external markets and the potential for disruption. SpaceX is already an extreme example of vertical integration, often choosing to develop a solution in-house rather than contract it out, as it allows for greater cost controls and innovation. Fuel production for their Starship system appears to be going the same way. 
This week saw the delivery of new tanks that will eventually be installed around the facility, although when that will happen is unclear. While the propellant plant is incredibly important for commercial flight operations, SpaceX should be able to get by using commercial suppliers for testing and the first few launch operations. 
Progress at the site had seemed to slow in recent months, as SpaceX awaited the outcome of the FAA environmental assessment. Now that this legal requirement is coming to an end, with a seemingly positive outcome for SpaceX, the rate of progress is already increasing. Currently, the main construction focus at the production site is the new Wide Bay, with the majority of work and construction equipment taking place there. Once this is complete, it is expected the focus will shift towards the propellant plant to reduce reliance on external suppliers and begin SpaceX's efforts to innovate and reduce costs.
Written by: Carl Bolland (/u/TheEarthquakeGuy)