Starbase Brewing is the Official Brewery of Mars
We're a Texas-based craft microbrewery aiming to be the first brewery on another planet. Our goals are to brew delicious beer, promote science and sustainability, and develop new brewing technologies optimized for humanity's future in space.
Established on Earth. Brewed for Mars.
The Brewing Philosophy
Starbase Brewing is creating out-of-this-world craft beers using the highest quality local Texas ingredients. Our beers are inspired by Starbase, Boca Chica, and the RGV, and are tailored specifically to space fans.
We brew a wide range of styles - everything from classic ales to experimental tropical lagers to even an imperial stout.
Starhopped
Hazy IPA
Massively dryhopped tropical IPA that boasts a juicy vibrant finish with powerful notes of pineapple, peach, and blueberry.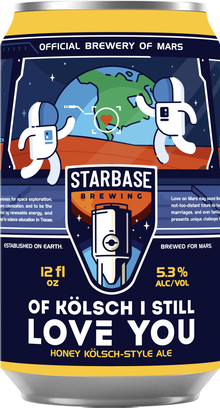 Of Kölsch I Still Love You
Honey Kölsch
Crisp Kölsch with the perfect balance of light malts and refreshing hops. Topped off with loads of tangy Huajillo honey.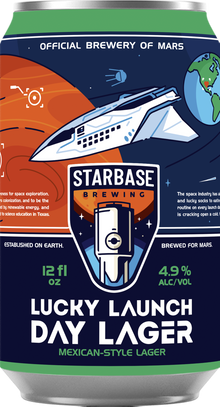 Lucky Launch Day Lager
Mexican Lager
Clean, light-bodied lager brewed with flaked maize and German malts. An aroma of softly-spiced hops and corn chips.
The Background
Starbase Brewing was founded by engineers who love space as much as we love beer. We're as passionate about Mars Colonization as we are about Hop Utilization.
Our company mission and brewing philosophy are heavily influenced by everything happening at Starbase Texas, and engineering is at the heart of everything we do.
All of our beers are inspired by recent rocketry advancements, and are designed to educate about the future of humanity in space.
This underlying goal of Starbase Brewing is to brew the first beer on another planet, and we are the "Official Brewery of Mars".
Read the mission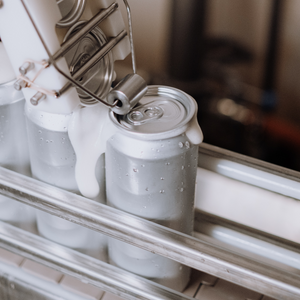 The Mission
Starbase Brewing started brewing in Austin in mid-2022. We began distribution in South Texas around Starbase and Brownsville. Since then, we have expanded to all of Texas and our beers are now available in H-E-B, Total Wine, and Spec's statewide.
Given recent advancements in the space industry, we believe it will be possible for us to begin distributing to Mars by the mid-2030's.
See our timeline
The Future of Craft Beer
The goal of Starbase Brewing is to build the brewery of the future. Each innovative area we are investing in can also be applied to colonizing other planets. Some of the first projects we plan to work on include:
• Optimizing the brewery from the ground-up for data collection
• Re-capturing all CO2 from fermentation
• Utilizing reverse-osmosis water treatment for all brewing water
The Future is Sustainable
Starbase Brewing is committed to preserving the environment for future generations. We aim to be leaders in sustainability for the whole brewing industry. We are:
• Powered by 100% renewable energy
• Offsetting carbon emissions and investing in carbon removal tech
• Donating 1% of all profits to science education in Texas
PROUDLY SUPPORTING
From the top spaceflight news resources to offsetting carbon emissions to re-imagining the education system, these are a few of the initiatives that we are proud to support.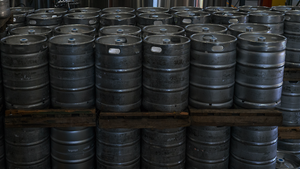 Interested in being a distributor or retailer? Got an idea for a future beer? Just want to chat about brewing or space? Reach out to us at hello@starbasebrewery.com