Starbase Update | Design Changes, Testing, Raptor 2 Update | 12/20/21
Testing on Booster 4 and other booster test tanks began this week at Starbase, although thanks to a last-minute Elon tweetstorm, this is now the second most exciting piece of news of the week. Elon's tweets have revealed brand new Ship changes, Booster progress, and Raptor 2 developments.
Testing
At the start of the week, Booster 4 was sitting next to the Orbital Launch Mount awaiting a lift from the SpaceX LR11000. Notably, this will be one of the last times a booster is lifted onto the mount by anything other than the chopsticks, as SpaceX makes more progress on the lifting and catching tower mechanism of the Starship program.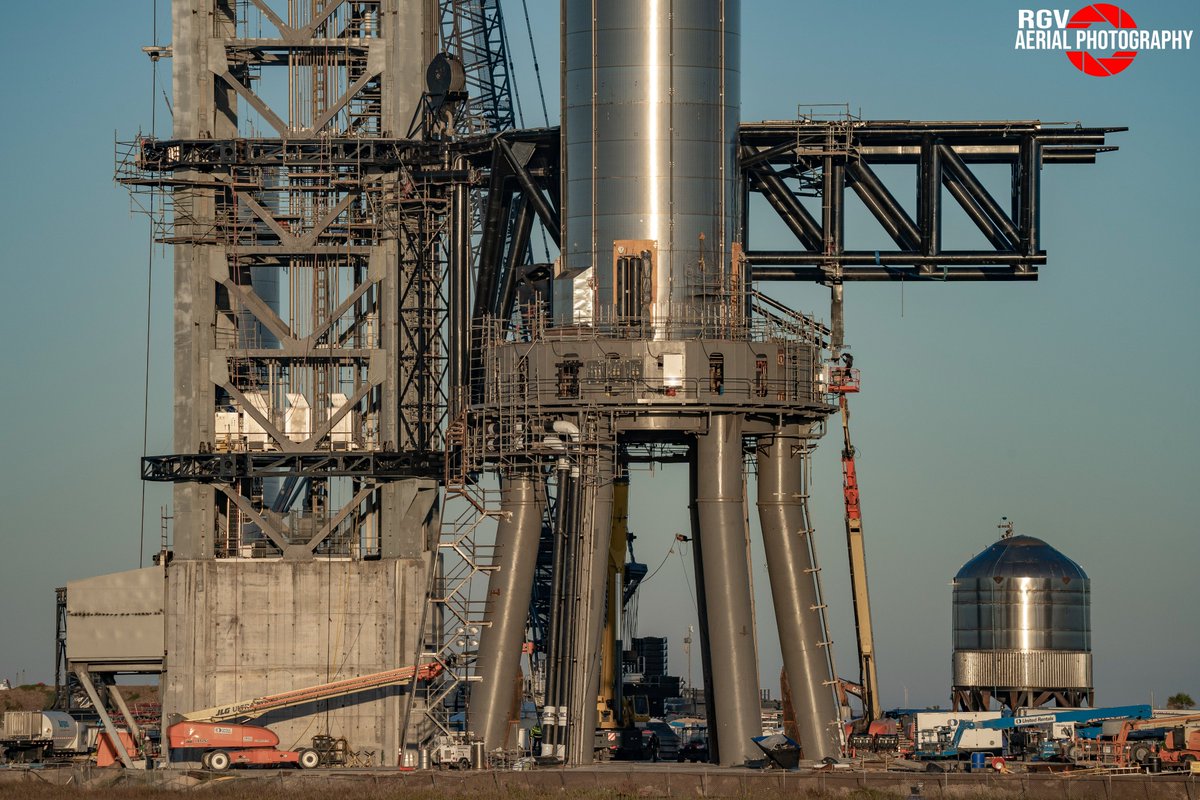 Booster 4 on the Orbital Launch Mount. Source: RGVAerialPhotography
The lift itself went off without a hitch and was successfully disconnected from the crane on the 15th of December. On the 17th of December, Booster 4 underwent its first pressure test and passed with flying colors, a good first step in its testing campaign. A pressure test is where a limited amount of propellant is fed into the vehicle and the internal propellant tanks are brought up to flight pressures. It's a test designed to check for leaks or weaknesses within the tanks with limited risk.
The Booster 4 test was not the only test that occurred this week, with the Booster 2.1 test tank also undergoing what has been described as a can crusher test. The crown of the test rig was lifted and placed on top of Booster 2.1 on the 14th of December, with the rigging installed over the next few days. The test itself is meant to provide data on the compressive forces that this section of the booster can experience. With this data, SpaceX will be able to make decisions on if any improvements are needed for commercial flights with heavy payloads.
Design Changes
On the 18th of December, SpaceX CEO Elon Musk posted a gif to Twitter showing a gimbal test of the center 9 engines of Booster 4. The center 9 engines gimbal to provide control authority (the ability to turn) to the Booster during flight, allowing the vehicle to change its trajectory during flight and recovery operations. Musk also spent time replying to tweets providing exciting new updates about the vehicles.
Starship Super Heavy engine steering test pic.twitter.com/VG4RQAGuyk

— Elon Musk (@elonmusk) December 18, 2021
The first most notable change was that future Ships will now have 9 engines instead of the current 6. This upgrade comes in the form of 3 vacuum engines that will provide extra performance for the vehicle when in the vacuum of space. To accompany this upgrade, the ship tanks are being stretched, although it is expected this will translate into the whole ship vehicle being increased in height to avoid payload bay loss.
Elon also mentioned that the Ship's current form 'isn't even its final form! Although pretty close' when replying to John Kraus on Twitter. This is not surprising to anyone that has followed the Starship program, or SpaceX as a whole for a while now. They are quick to make improvements and changes quickly and consistently instead of larger revisions periodically.
Musk revealed that the next Booster will have 33 engines, with 13 gimballing engines in the center. This is expected to be in a 3-10-20 engine set up, with the center 13 engines having 15 degrees of freedom, up from the 13 degrees of freedom currently allowed by Booster 4.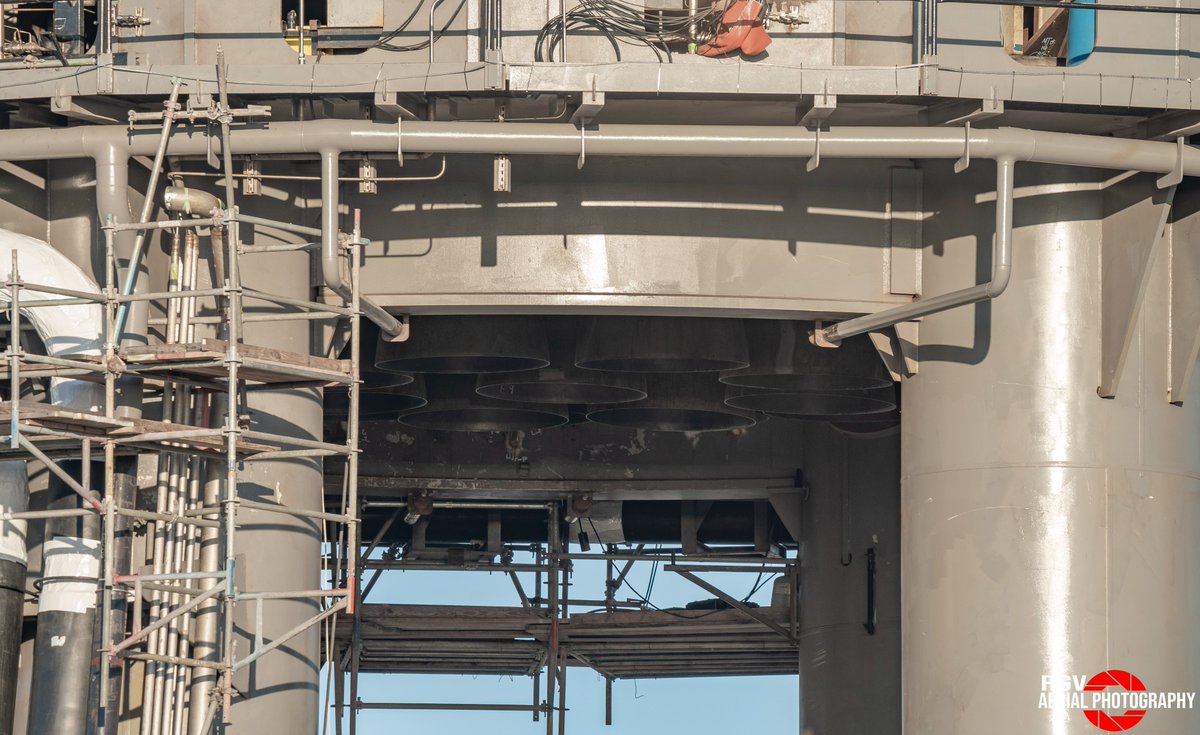 Raptors suspended under Booster 4 on the OLM. Source: RGVAerialPhotography

The most surprising news of all was Elon's mention that SpaceX is still targeting the first flight using Flight 420 (Booster 4, Ship 20). While many were quick to rejoice, it's important to note that Elon and SpaceX have consistently been optimistic about their timelines and expectations. Due to the quickly changing nature of the program, it would not be surprising to see this change as Booster 4 undergoes testing. For Booster 4 to fly, everything needs to go perfectly, including a full 29 engine static fire of the world's most powerful rocket. So while it's good to be optimistic, it's also important to remember that things can change extremely quickly with this program.
Raptor 2 Update
One more tweet on the 18th of December gave a huge insight into the ongoing production issues at SpaceX regarding Raptor 2. In a reply to a tweet showing Raptor test engine footage from a distant vantage point, Elon mentioned that all tests moving forward are of the next generation of Raptor 2 engines.
Raptor 2 is an upgraded version of Raptor 1, with 230+ tonnes of thrust per engine, an increase of 50 tonnes from Raptor 1's 180 tonnes. It has also been designed to be easier to produce with a brand new factory being built at SpaceX's McGregor test facility to mass-produce the engines for the Starship program.
With all future tests now being of Raptor 2, we can infer that Raptor 1 production has shut down and the lines transitioned fully to the new engine variant. This does mean it is incredibly unlikely that we'll see Booster 5 with engines due to it being constructed with Raptor 1 in mind. It also means that if Booster 4 experiences any major issues during testing, it may be incredibly unlikely to see further progress with the vehicle due to the0 limited supply of Raptor 1 parts and replacements.
It should be noted that Booster 8 is the first expected booster able to support these engines due to the increased load on the vehicle's structure. Booster 4 and 5 were designed with Raptor 1 thrust loads in mind.
Finally, this is good news in regards to Raptor production. At the end of November, Musk sent a company email detailing the crisis that the Raptor program was experiencing with producing enough reliable Raptor engines for use in upcoming Starship flights. From this tweet, it is expected that these production issues have been resolved at the Hawthorne lines. With the new factory at McGregor coming online in Q1 2022, it is expected this will be able to provide enough engines for the intended test campaign of 2022.
Written by: Carl Bolland (/u/TheEarthquakeGuy)